Modem and SIM Card¶
The Librem 5 development board is supplied with an on-board modem: a SIMCOM SIM7100A or SIM7100E, depending on your region. The Librem 5 phone will be supplied with a different modem. Regardless of the modem in use, the process of installing a SIM card and accessing the mobile network should be mostly the same when performed in the graphical user interface.
The sections below cover each step in the process.
Before continuing, log out of the board, and use the on-screen power button or the hardware power switch to power off the development board.
The development board accepts a Micro SIM card in the socket that is adjacent to the modem. This is located on the opposite side of the board to the screen, as shown in the figure below.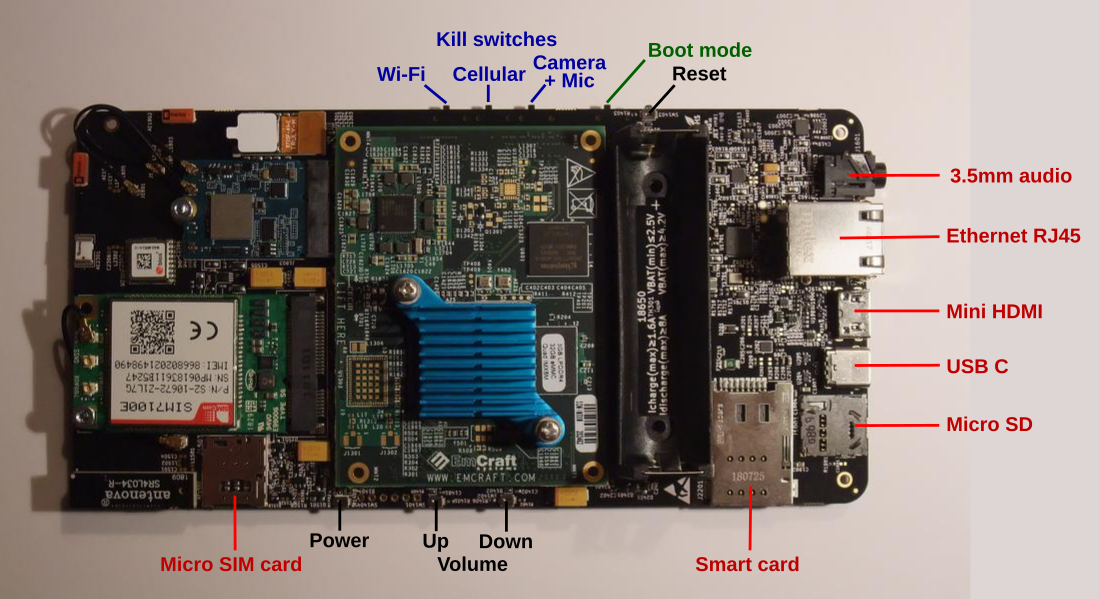 With the side of the board containing the modem facing up, insert the card into the socket with its metal pads facing down, ensuring that the side of the card with the corner removed is inserted into the socket. The socket should click as the card is latched into place.
Supply power to the board again. The system should boot up to a lock screen with a locked SIM symbol.
Unlock the screen by swiping up and log in as usual.
Swipe down from the top of the screen to open the settings panel, then press the tools button.
The GNOME Control Center will start. By default, it will show the Cellular settings panel. Initially, this will show that the SIM card is locked.
Press the Unlock button to start the process of unlocking the SIM card. You will be prompted to enter the pin code for the SIM card – this will have been supplied by your cellular network service provider.
Enter your pin code using the on-screen keyboard and press the Unlock button. You only have a limited number of attempts to enter your SIM pin code, so take care to enter it correctly. Once the pin code has been entered, the Cellular panel will be shown.
The Cellular panel allows the modem's usage of the cellular network to be configured.